Our WA coastline is a beachgoers paradise. And while the whole world knows our surfing, sunbathing, boating and fishing are must-do activities, we want to talk about something closer to the heart. We want to talk about making family memories with a simple day at the beach. Here are some of the most awesome (and sometimes overlooked) ways to enjoy the coast with the kids!
Beach Frisbee Golf
Why play frisbee when you can make it frisbee golf? Set up targets using things you brought to the beach (blankets, umbrellas, towels, even dig a hole to aim at!). Then take turns trying to throw your frisbee as close to the target as you can. Make sure smaller kids are allowed to stand closer to the target than the bigger ones to even the odds and keep everyone happy.
Go Fly a Kite
You'd be hard pressed to find a kid who doesn't like to fly a kite. Make use of the coastal breeze, get the little ones some exercise, and let them run around on the sand watching the kite fly above them.
Tug of War – With a Splash!
This little twist on the traditional tug of war adds a bit of excitement – you better be prepared to end up in the water!
Grab a rope (or skipping rope, or towels tied together), stand at the water's edge, and divide the kids (and adults) into two teams. Draw a line in the sand, have your teams pick up the rope… and you know the rest!
Can You Dig It?
This one's really simple but surprisingly fun. Get your kids to see how deep a hole they can dig! Once they've dug as far as they can, see if an adult can fit in the hole, or see how long it takes the hole to fill with water.
Just keep an eye on how deep they're going – you still need to be able to get them out of there! And remember to fill in your holes when you're done so others don't fall in.
Beach Mini Golf
Grab a set of plastic clubs and balls at Red Dot (or use makeshift clubs with anything handy). Set up a few targets to aim for in the packed sand nearer the water – and maybe even build some fun obstacles out of the sand.
Let's Go to the Beach!
Sunbathing, beach limbo, snacks at the cafe… sounds like the life, doesn't it? The kids would definitely think so! And just imagine living moments from a beautiful beach like this one.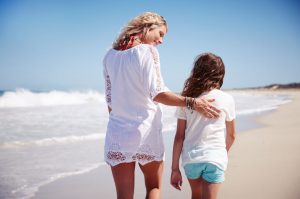 If it sounds too good to be true, have a look at the price of homes in our coastal village. You might be surprised what's within your reach.