Primary school, college, shopping complex and medical centre not enough? A dental centre is now open in the Atlantis Beach estate.
Situated within the new medical centre in Atlantis Beach estate is Two Rocks Dental Care, the first dental clinic in the township. With a range of different services available, there's something for all ages and dental needs.
The Two Rocks Dental Care story
Two Rocks residents will be provided with high-level dentistry services from experienced, friendly dentists and support team.
Who are the dentists?
Dr Ajitha Kanupuru – who has twelve years of dentistry experience, five of which includes operating two dental clinics in Hocking and North Beach.

Dr Mayuri Gavit – who has ten years of dentistry experience with a focus on family dentistry.
Dr Kanupuru stated that the local community believed that a local dentistry service was long overdue. Two Rocks residents no longer have to travel to Yanchep or even further for dental treatment.
A wide range of treatment options from oral hygiene to cosmetic enhancements are sure to make residents smile.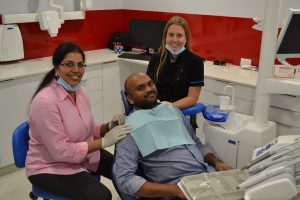 Two Rocks Dental Care are the preferred provider for HBF, Medibank, NIB, HCF and CBHS. This means that you'll still get the top-quality service, with less out of pocket expense. The dental team will also support you if you're a Medicare subsidy patient, a child on the Dental Health Benefit Scheme or a Department of Veteran Affairs patient.
What you can expect from Two Rocks Dental Care
Knowing what to expect from a dentist can ease those dental apprehensions.
The services provided:
Adult:

active maintenance, colour-matched fillings, implants and more.

Children:

mouthguards, wisdom teeth extraction, scale and cleans.

Emergency:

chipped teeth, sore gums or alignment issues.
Good dental health is crucial for overall health. This is why the team at Two Rocks Dental Care is here to assist you with regular check-ups, emergency care and cosmetic treatments to get you smiling with confidence again.
You'll get the comfort and ease of the latest dental technology at an affordable price.
How can you visit Two Rocks Dental Care?
That's easy – Contact Two Rocks Dental Care via phone, online or drop by to see what they're all about.
Opening times:

9am – 5pm Monday to Friday & 9:30am – 1pm on Saturdays.

Location:

6 Constellation Entrance in

Atlantis Beach Estate

.

Contact:

9502 9040, browse their

website

for more information or

book online

.
We're excited to welcome new health providers such as Two Rocks Dental to our growing Two Rocks community.
A dental centre adds social infrastructure to the Two Rocks community, complementing the new medical centre, child care facilities and schools. A new family dentist with all the latest technology and friendly service is just one of the many reasons why families are loving what Atlantis Beach has to offer.
Looking to join a growing family-friendly community? Contact Atlantis Beach today to secure your your Two Rocks House and Land today.