There's nothing like finding a new favourite restaurant. And that goes double if the spot is well-priced, well-managed, cosy and in a gorgeous setting. Feels a bit like striking gold – you almost don't want to tell anyone else about it. But today we're feeling generous, so we're sharing the scoop on The Pickled Herring.
The Food
Maybe the thing we love most about this spot is that they do a great job with breaky, classic pub lunches and satisfying dinners to remember. It's an all-purpose restaurant, and that's probably why they have almost 200 rave reviews on Trip Advisor.
Breaky options include classics like eggs, bacon and toast, egg bennies, and Salmon Delight (poached eggs, smoked salmon, smashed avo, baby spinach on a toasted sourdough with feta cheese & balsamic glaze).
For lunch, you'll find plenty of generous pub classics to sink into. Burgers, a parmy to die for, sensational fish and chips – or maybe this steak and chips.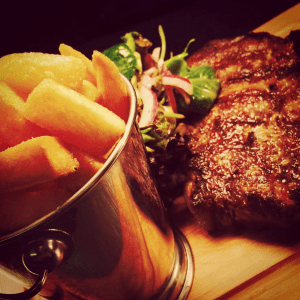 Photo Credit: @thepickledherringtworocks
When dinner rolls around, you can kick things up a gear with delectable options to suit every taste. But as a seaside restaurant, it's their seafood menu that really has us hooked. I mean are you kidding… check out the size of these babies!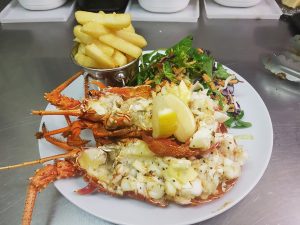 Photo Credit: @thepickledherringrestaurant
And don't get us started on dessert. Just look at this double chocolate tart!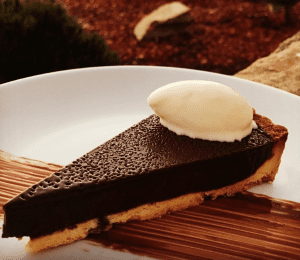 Photo Credit: @thepickledherringtworocks
The Location
Nothing like a meal overlooking the ocean. The Herring is right on the beautiful Two Rocks Marina. Both the indoor and outdoor seating looks out onto the marina and the gorgeous Indian Ocean.
The Vibe & Surrounding Community
It's also got the laid back, small-town vibe that you'll find throughout Two Rocks. You might see a friendly Atlantis Beach local or two – and probably some folks up from Yanchep or Joondalup (yes, word is spreading). Good service, generous servings, and really good food. This hidden gem really feels like just that!
The Pickled Herring is definitely worth a visit. It's right on the beach, so you can make a day of it and enjoy an afternoon on the sand – maybe even shoot out to Yanchep National Park nearby.
But for the locals, all this is just another day! If you want to join us here in Atlantis Beach, we're currently releasing House & Land packages of incredible value.